Take your email security to the next level with Email Protect
™
or Complete Protect™
It's fast and easy to upgrade your IRONSCALES Starter service with:
Business Email Compromise (BEC) Protection
Prevent CEO and invoice fraud, supply chain, and non-signature-based attacks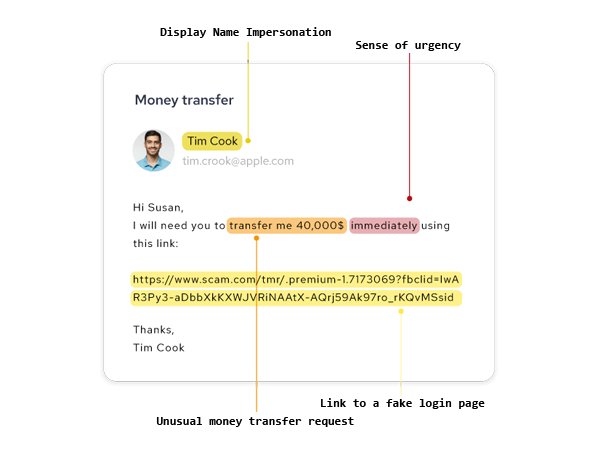 Real-Time Malware & URL Protection
Identify, flag, and automate responses to malware and URL threats at scale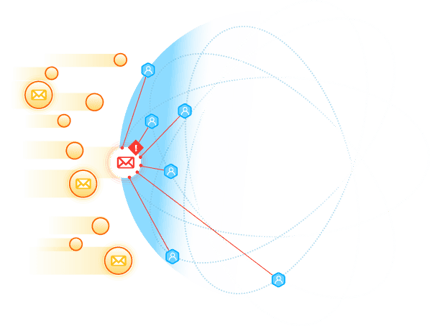 Collaborative Threat Hunting & Intelligence
Hunt phishing threats proactively and collaborate real-time with global security teams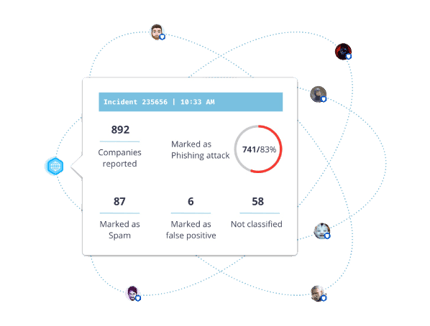 Explore some of the features available by upgrading today!
Prevent CEO fraud, supply chain attacks, invoice fraud, and other non-signature-based BEC attacks in real-time
Prevent, Detect, and Remediate BEC Attacks
As threats become more sophisticated through social engineering, they also become more difficult for busy or distracted employees to detect. By fusing machine learning with human behavior and business insights analysis, IRONSCALES provides dynamic impersonation and fraud protection beyond DMARC and conventional SEGs by delivering mailbox-level and business anomaly detection. Features include:
Protect against email threats on any device and web app via 2-click API integration
Prevent targeted executive and employee email attacks
Stop supply chain fraud and invoice fraud
Mailbox-level BEC Prevention Out of the Box
Know who is sending what to your inbox. IRONSCALES works from the inside out by building unique profiles for each employee based on communication history, content analysis (NLP), internal, external relationship profiles, and other metadata to detect anomalies. Integrate in seconds with 2-clicks via API to Microsoft Office 365 and see what your current email security is missing.

Protect Against Inbound and Internal Phishing
IRONSCALES leverages Natural Language Processing technology to flag commonly used BEC language such as requests for banking details or language emphasizing task urgency or reciprocity. By starting at your inbox, you'll be ready to take targeted action on compromised vendor and employee accounts.

Detect Supply Chain Attacks and Invoice Fraud
IRONSCALES integrates into enterprise application APIs such as MS O365 Graph, which allows for the mapping of users and business communication habits in order to create a benchmark for "normal" interactions. Anything that deviates from the norm will be immediately flagged, analyzed and remediated in real-time to prevent fraud.

Protect and Train Users With Warning Banners
Flag suspicious emails in real-time before users click, and deliver actionable guidance for reporting and remediating suspicious emails. Known threats are automatically resolved and suspicious emails are flagged. Straightforward banners alert employees of probable threats which they can report with a single click for automated analysis, even on mobile devices.
Identify, flag, and respond to malware and URL threats at scale.
Malware Protection At Scale
Traditional malware detection tools struggle to stay ahead of emerging email threats. IRONSCALES counters attacks with a multi-layered approach that analyzes content and communication patterns to build internal and external relationship profiles. Any known malware threats or suspicious URLS or attachments can be detected and removed in real-time. Features and benefits include:
Constant, ongoing automated inspections of links-attachments across all inboxes
Access best-of-breed anti malware and AV engines out of the box (60+ engines)
Inspects suspicious URLs and email attachments using real-time collaborative threat intelligence
Detect Email Threats That Bypass Your Secure Email Gateway (SEG)
Traditional malware technology relies on known signatures in order to detect malicious threats. Polymorphic variants make it impossible for signature-based legacy solutions to identify every possible attack. IRONSCALES mailbox-level protection incorporates sandboxing and multi AV engines as well as proprietary real-time threat intelligence exclusive to IRONSCALES users.
Comprehensive Malware Protection
IRONSCALES delivers out-of-the-box, multi AV and sandbox integration that complements or replaces existing malware protection capabilities. Integrate with more than 60 malware protection engines to provide a single dashboard that continuously monitors links and attachments for instant detection, analysis, and remediation.
Proactive Ransomware Prevention
Ransomware attacks constantly morph in order to slip past your defenses. Attackers may even delay the execution of weaponized links or remain dormant in your network, watching and waiting. Continuous monitoring of inboxes is the only real path to protection.
IRONSCALES combines behavioral analysis with ongoing, automated inspections of links and attachments to anticipate and prevent future attacks.
Hunt phishing threats proactively using real-teams in real-time through global security collaboration.
Anonymously Collaborate With Thousands of Security Teams and SOCs Around the World
Threat intelligence from security vendors is often built on outdated, inaccurate data. IRONSCALES delivers vetted phishing threat intelligence direct from the front lines, seamlessly—in real-time--so your team has the most relevant, up-to-date information on known and emerging attacks. Features include:
Receive aggregated real-time incident updates from all security teams right inside the platform
Syncs alerts with other solutions on the platform to automate detection and remediation
Collaborate anonymously on threats internally or externally with other platform users around the world
Stop Emerging Email Attacks With Real-Time Threat Intelligence
Prepare your team with real-time, real-world threat intelligence from a global network of like-minded security teams. That means being able to anticipate and identify attacks that happen anywhere in the world before they compromise your mailboxes.
Build a Shield Wall Against Advanced Zero Day Attacks
The minute an accredited security team member anywhere in the world confirms a specific phishing attack, every IRONSCALES user is simultaneously shielded from that attack within mili-seconds. All other platform features are instantly updated, providing a seamless, simplified shield wall against attacks. No other email security company currently provides anything comparable to our community-sourced intelligence
Expand Your Threat Hunting Team Effortlessly
Decentralized threat intelligence means leveraging the power of security teams around the world to help protect against new and evolving attacks. In the same way that platforms such as Airbnb and Waze consolidate and distribute information among users, IRONSCALES receives and federates ongoing incident updates from all users/companies, anonymously.
Reduce manual analysis of suspicious or reported emails and improve response times through automated incident response.
Reduce MTTD, MTTR, and Dwell Time
Faster response times = reduced click rates. Automated incident response narrows the window of time between attack and detection by resolving threats autonomously and remediating them at scale.
IRONSCALES alleviates SOC burnout by remediating threats in bulk and integrates with a variety of SIEM and SOAR platforms for easy implementation. Features include:
Auto triage employee reported email threats
Cluster and remediate similar attacks
Bulk remediate threats in just seconds
Triage Employee Reported Emails
Automating your incident response process does more than just prevent threats: it lightens the load for SOC teams by autonomously analyzing and resolving email threats and blocking them for good.

Cluster and Remediate Email Threats at Scale
Say 'goodbye' to search and delete: AI-powered incident response automatically detects, clusters and remediates similar/polymorphic emails, and resolving them en masse. Decrease in-house email admin time and effort with AI/ML (no more scripts and tools).
Detect and block attempts to steal user credentials.
Credential Theft Attacks
Credential phishing is the practice of stealing user credentials by masquerading as a reputable brand or known person. Credential phishing commonly includes a malware-less link to a URL that will capture the credentials entered by the victim, compromising user accounts for further attacks.
IRONSCALES uses a 3-pronged approach that analyzes content, communication patterns, and internal/external relationship mapping to prevent credential theft attacks. Features include:
Computer vision and deep learning block fake login pages in real time
Continuous monitoring of communication patterns to detect anomalies
Real-time identity profiling and scoring of internal and external senders
Block Hard to Detect Fake Login Attacks
Fake login attacks lure victims by mimicking real login pages. Utilizing advanced deep learning algorithms, neural networks and computer vision, IRONSCALES detects in real-time any visual deviations such as layout, images, or logos to determine whether or not a ogin page is authentic.
Beyond Legacy Credential Theft Protection
Conventional credential theft prevention tactics such as MFA and conventional awareness training are no match for sophisticated attacks that rely on social engineering to exploit human error and weaknesses.
IRONSCALES' alternative approach ingests numerous data sources via API integration to provide real-time identity profiling and scoring for all internal and external senders. Continuous inspection of suspicious URLs and attachments identifies and removes threats in your inbox, before users can engage.
Bespoke Credential Theft Machine Learning Models
Traditional URL scanning technology analyzes the source code of a suspicious HTML page in order to detect signatures of known attacks. But many attacks avoid malicious code in order to slip past your defenses. They simply wait for users to enter their credentials.
IRONSCALES uses multiple machine learning and AI analysis to detect the typical BEC language that can signal credential harvesting or password spraying attacks.
Prevent, detect, and remediate account takeover (ATO) attacks.
Prevent New and Emerging ATO Attacks
Account takeover fraud involves an attacker stealing an authorized user's credentials to access financial information or sensitive data. Credentials are often stolen by using phishing attack vectors that take advantage of person-to-person trust, such as fake login pages. IRONSCALES analyzes content and communication styles in order to detect and prevent even the most sophisticated account takeover attempts. Features include:
IP tracking & device profiling to monitor suspicious activity
Learn users and company business process and relationships to prevent fraud
User behavior profiling to prevent fraud and and social engineering
Detect and Prevent Compromised Accounts
Cross check multiple signals of compromise such as suspicious travel, mail forwarding rules, and BEC language to prevent email account compromise attacks.
Detect External Vendor Email Compromise
Leveraging business application APIs such as O365 graph API allows IRONSCALES to learn user and company business processes, typical language, and relationships. Continuous analysis prevents fraud and social engineering via compromised vendor accounts.
360° Account Takeover Prevention
The number of account takeover attacks surged 282% from 2019 to 2020. With that trend likely to continue, security teams will need every tool in the box to stay ahead of attackers. IRONSCALES delivers holistic, comprehensive ATO protection through automated incident response, proactive threat hunting, virtual SOC, and employee training and phishing emulation.
Safeguard your organization with IRONSCALES™ link and attachment scanning for Microsoft Teams®
Protect Your Team Members
Collaboration platforms are less secure than email, which adds one more layer of challenges for stretched IT security teams. Employees commonly let their guards down when using collaboration and messaging platforms. They assume messages, links, and attachments are trusted because these platforms are viewed as "internal-use only," but that's not always the case. It's not unusual for organizations to invite partners, customers, and third parties to connect to their collaboration platforms—which increases the chances of phishing attacks, credential theft, account takeover, and VIP impersonation.
The IRONSCALES™ powerfully simple security platform adds a robust layer of security for Microsoft Teams® to help keep organizations safe. Features include:
Automatically scans and blocks malicious or suspicious links and attachments shared in Microsoft Teams
Comprehensive incident management and reporting via IRONSCALES dashboard, mobile app, and email
Built for use with Office 365 for seamless integration and configuration in just two clicks
Ready to Upgrade or Start a Trial?
We have several flexible options, including FREE TRIALS, that can be activated in just a few minutes.
Click the button below and someone from our team will reach out to you to get you started (or answer any random question).