IRONSCALES version 64.00.00 release includes capabilities to ease management efficiency and launch a phishing simulation campaign in under three clicks. Below are just some of the enhancements delivered in this release.
What's New in IRONSCALES v64.00.00
Recommended Campaigns
We're excited to announce the launch of our Recommended Campaigns, a collection of IRONSCALES-crafted campaigns available to you at no cost. Featuring a 3-click setup and trendy content, these campaigns will help enhance usability, reduce the time needed to launch, and bolster phishing awareness within your organization.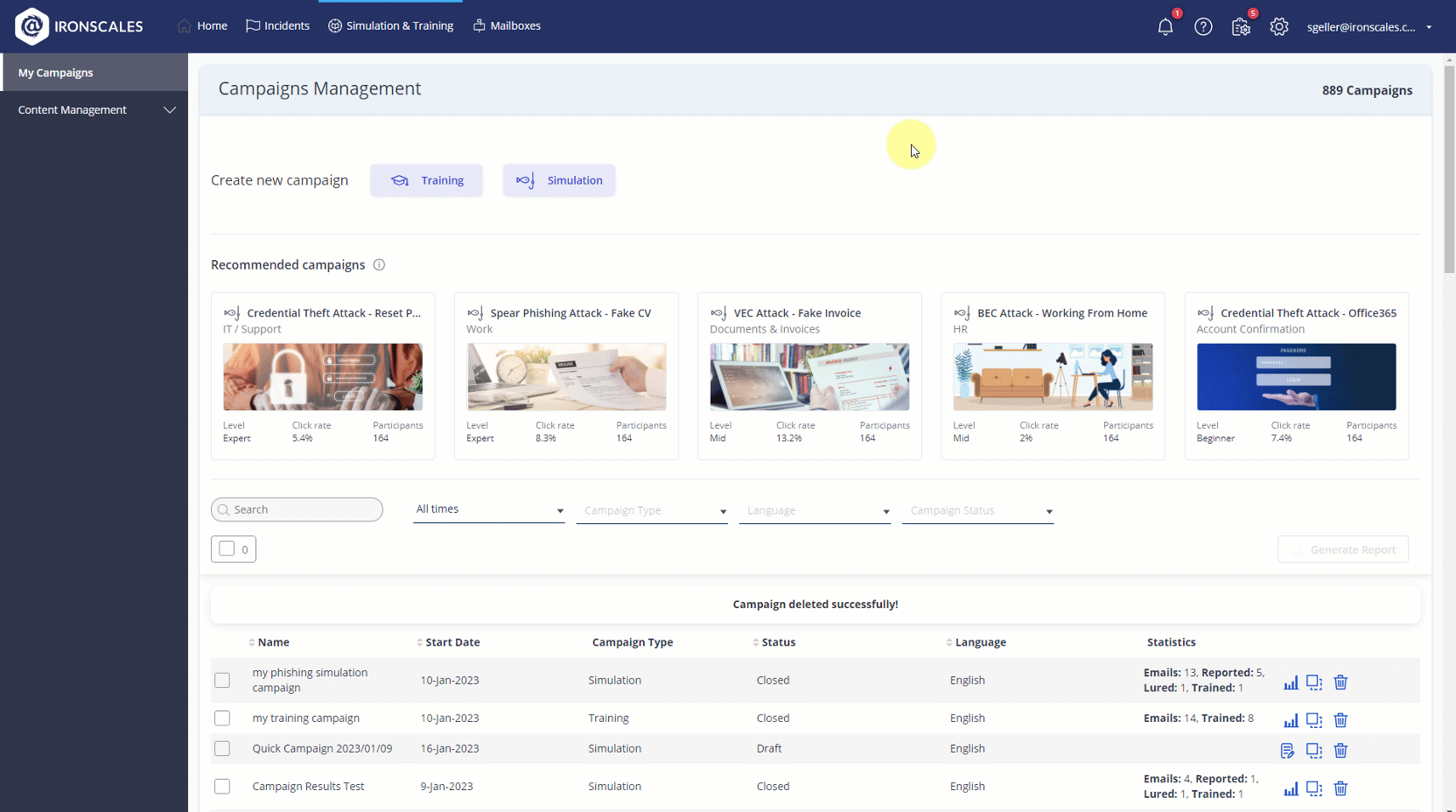 Group Settings
Included in the Complete Protect plan, We have officially launched Group Settings company settings templates! Initially released as a Beta, Group Settings provides MSPs and multi-tenant organizations the convenience of managing their companies' common settings and configurations from a single location.
SSO integration with PingFederate
We are pleased to announce the launch of our new SSO integration with PingFederate. This integration allows our users to securely log in to their accounts using their PingFederate credentials.
Share large incident and mailbox reports with others - New CSV option available
We have upgraded the Incidents tab's Remediated Emails and Reported Incidents reports, as well as the Mailboxes Management page with a Share button to facilitate better team collaboration and visibility of your organization's security status. The Share button also allows for the creation of reports of any size, providing a more reliable alternative to the Download CSV option, which has a size restriction.
Enhanced authentication in outbound communications
DKIM authentication for all outbound communications: All communications coming out of IRONSCALES, such as system alerts, End-user Alerts, and Security Awareness Training campaign emails, now include DKIM authentication in addition to the existing SPF authentication.
DKIM addition to customized user domains: IRONSCALES communications that use a custom domain now include DKIM authentication. To ensure delivery of IRONSCALES emails from custom domains, perform the DNS changes in Changing Email Address of End User Alerts.
DMARC has been added to IRONSCALES.com and Phishing Simulation campaign domains.
To see more of what's new in IRONSCALES v64.00.00, visit our knowledge base or register for our upcoming product webinar.