With the v43.00.00 release of IRONSCALES, we are pleased to announce the following product improvements and new features:
New Account Takeover incidents included in the Incidents tab's counter badge
The open incidents counter badge (in the Incidents tab) introduced in the previous release now includes open Account Takeover incidents.

Allow viewing and customizing a campaign's groups
It is now possible to view each group's participants and exclude specific participants. To do so, on the campaign's setup page, select a group in the Exclude Participants dropdown list and view the participants in the popup. Select the participants you wish to exclude.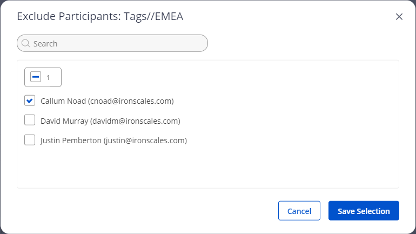 In future releases, we'll implement this capability in the Campaign Participants field for your convenience.
Terminology alignment – completion
In this release, we've completed the terminology alignment initiative we started in the previous release, with the following updates:
Updated remaining Simulation & Training dialog titles, element captions and messages accordingly
Renamed Phishing Simulator tab to Simulation & Training Summary

Home > Threat Protection

tab:

Renamed Threat Protection widget to Remediated Incidents
Retitled Incidents Resolved to Incidents Remediated
Secret tokens are now hidden in the "General & Security" settings page
To prevent unauthorized access to your account's secret tokens (by sharing screenshots of the settings page for example), IRONSCALES now obfuscates the tokens. Going forward, only the first 3 characters of each token are displayed, while the rest are masked: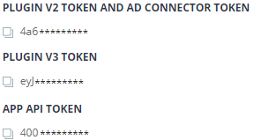 Admins are still able to copy each token by clicking the Copy button next to the value.
To learn more about IRONSCALES' award-winning anti-phishing solution, please sign up for a demo today at https://ironscales.com/get-a-demo/.