With the v46.00.00 release of IRONSCALES, we are pleased to announce the following product improvements and new features:
New and improved Incidents tab
We are pleased to announce the release of our redesigned Incidents tab, featuring a cleaner, more intuitive left pane, and improved filtering options to allow you to quickly find incidents.
Left pane improvements:
The first thing you'll notice is that the left pane is a lot less cluttered. We basically rearranged all incidents under two new pages - Unclassified Incidents for all open incidents, and Classified Incidents for all already handled incidents, and renamed History to Reports.
Open Incidents and unclassified Closed Incidents pages were consolidated under new Unclassified Incidents
Classified Closed Incidents and Active Incidents pages were consolidated under new Classified Incidents
Account Takeover (ATO) incidents are now included in the new pages (used to be in their own section)
History was renamed to Reports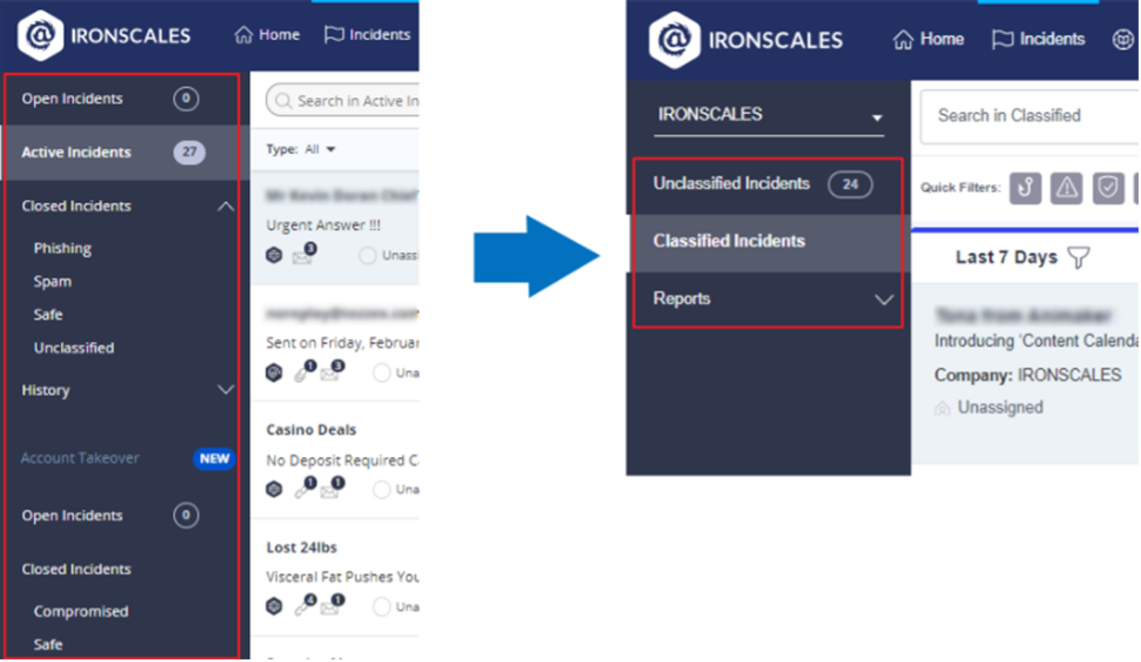 Filtering enhancements:
To facilitate incident investigation, we rearranged how the incidents are displayed in the incident explorer and enhanced the filtering mechanism, as follows:
The new Unclassified Incidents and Classified Incidents pages contain two tabs: Last 7 Days and Older
The tabs include two sets of filters:
In both Classified Incidents and Unclassified Incidents pages, the Type filter was replaced with an advanced incident type filter in the tabs: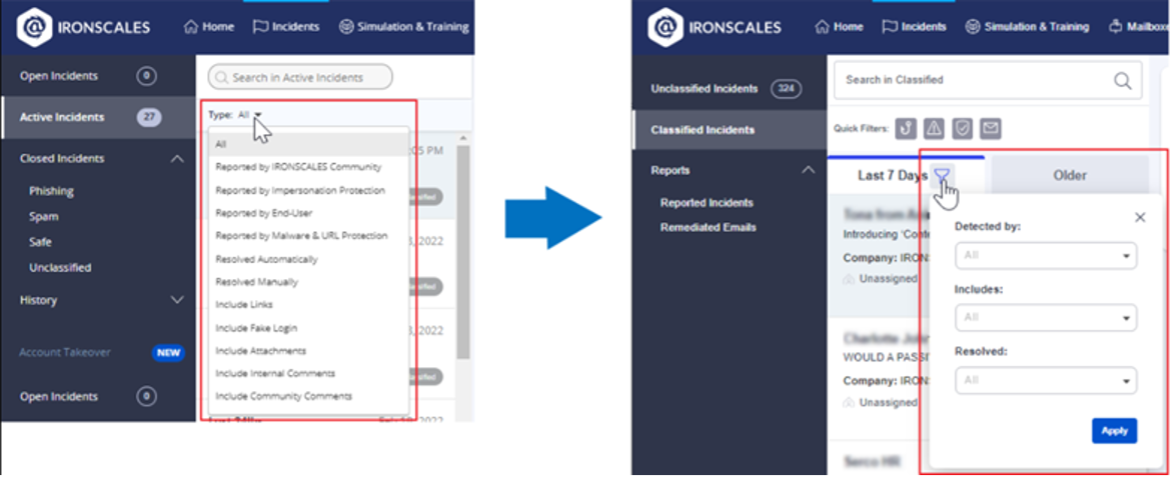 Tabs in the Classified Incidents and Unclassified Incidents pages include new quick filters that allow you to filter according to incident type (Mail, ATO, etc.) and classification (Phishing, Spam, Safe, or Compromised (for ATO incidents):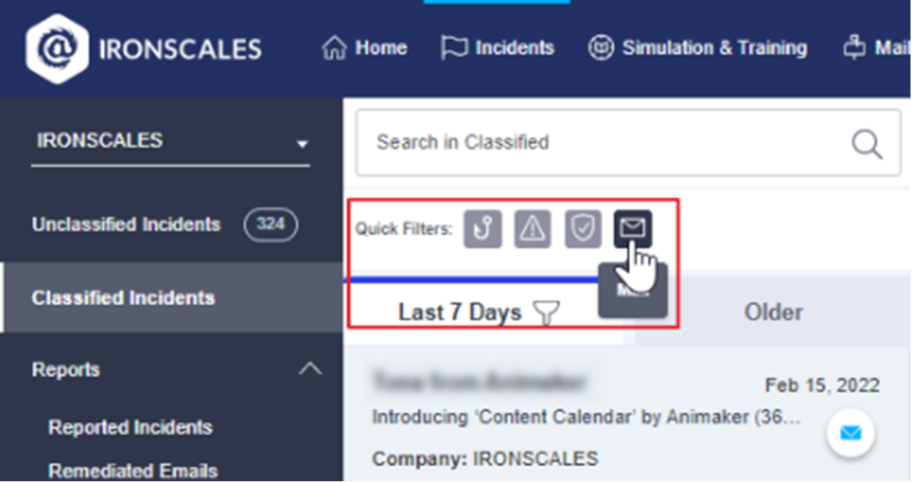 Add Country and City to CSV example template
The Bulk Upload CSV example report now includes Country and City columns. This enhancement will enable you to get more accurate reports and to target participants by location in your phishing simulation campaigns.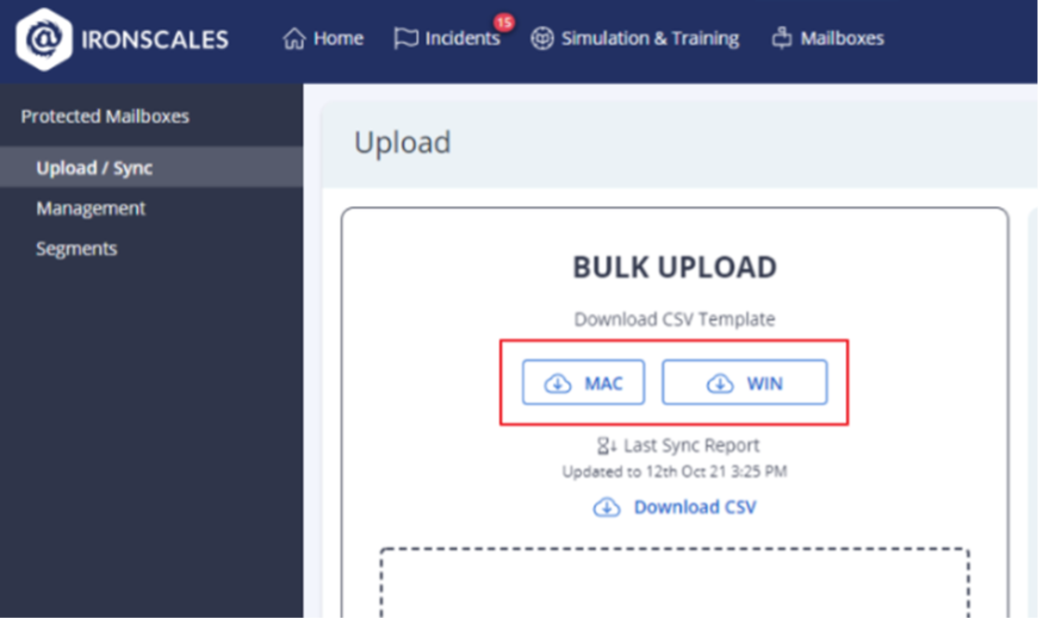 Edit delivery type in campaign set up - (Behavior change)
When changing a Quick Launch campaign's delivery type to SMS, the participant list is cleared.
By default, Quick Launch campaigns are defined to launch emails. However, when changing a Quick Launch campaign's delivery type to SMS, the participant list would remain as originally defined. As a result, participants without a phone number would cause the launch to fail.
New integration/authentication/company details events in Activities log
To give you a clearer picture of your administration activities, we've added several events to the Activities log, including:
Email Server Integration
SSO authentication
Settings - to indicate changes to company info
Align roles to match the new terminology
Terminology changes related to incidents and campaigns:
Old role name

New role name

Admins
Campaigns Editors
Resolution Center Manager
Resolution Center Viewer
Resolution Center Operator

Admins
Campaign Editor
Incident Manager
Incident Viewer
Incident Operator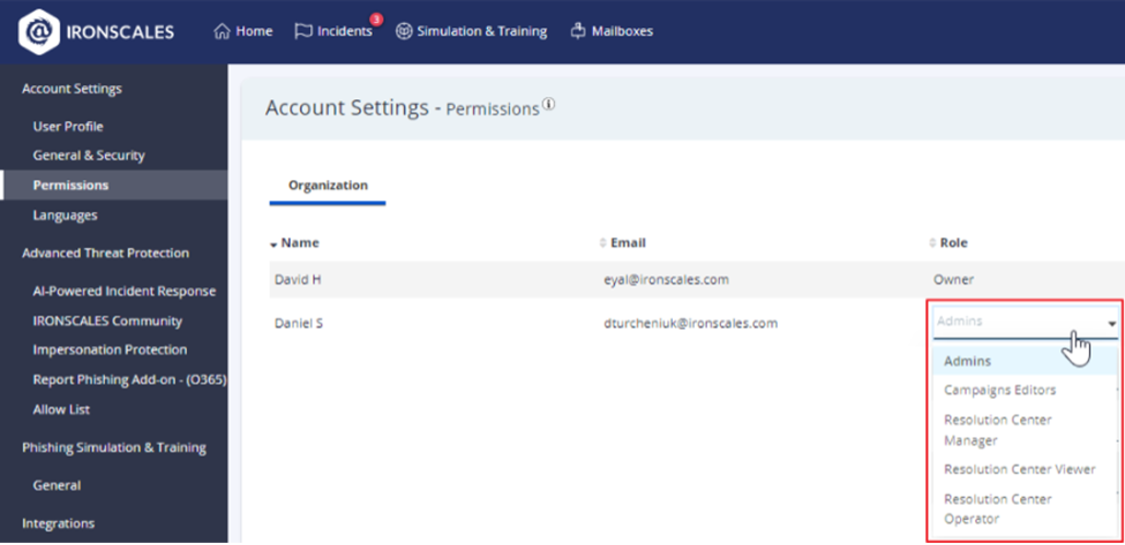 To learn more about IRONSCALES' award-winning anti-phishing solution, please sign up for a demo today at https://ironscales.com/get-a-demo/.