With the v56.00.00 release of IRONSCALES, we are pleased to announce the following product improvements and new features.
Updated 'Featured Groups' in the 'Campaign Participants' menu
Further to the addition of Security Awareness Training campaigns, we retitled some of the featured groups in the Campaign Participants menu to indicate that they apply to Phishing Simulation campaigns. We also took this opportunity to rearrange their order of appearance.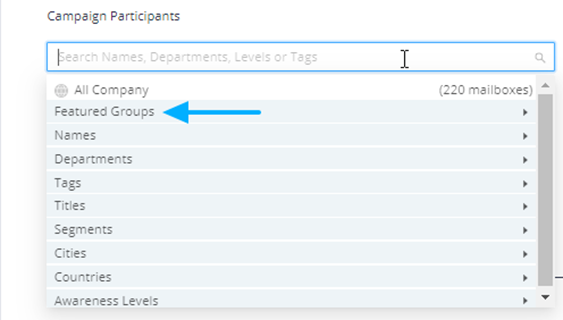 For example:
Never been targeted in a campaign > Never targeted by a Phishing Simulation campaign
Were not targeted last month > Hasn't received a Phishing Simulation campaign last month
Lured in the last 3 months > Lured by a Phishing Simulation campaign (last 3 months)
Behavior alignment: 'Resolution Tags' dropdown for all incident classifications
The Resolution Tags dropdown available for incidents that have been classified as Phishing or Compromised is now available for Spam and Safe classifications.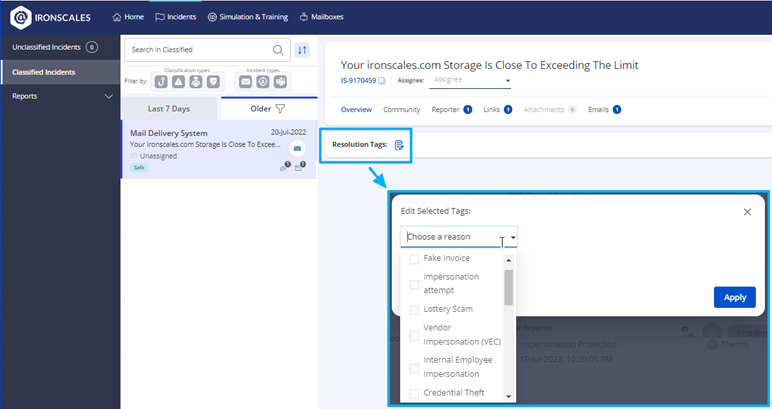 Terminology updates
As part of our ongoing initiative to simplify the application and make it more intuitive to our customers, we made the following terminology changes and alignments:
Incidents tabs

Manage and review instances > Manage and review emails

Phishing Simulation and Training > Simulation and Training
Advanced Threat Protection > Threat Protection
AI-Powered Incident Response > Incident Response
We've also aligned the titles of the settings pages. For example:

AI-Powered Response > Incident Response
Impersonation Protection Banners > Impersonation Protection
End-User > End-User Alerts
System > System Alerts
Option to customize the sender's email domain in IRONSCALES notification emails
You can now customize the sender domain in IRONSCALES notification emails. This is done in the new CUSTOMIZE SENDER EMAIL DOMAIN section of the System Alerts settings page.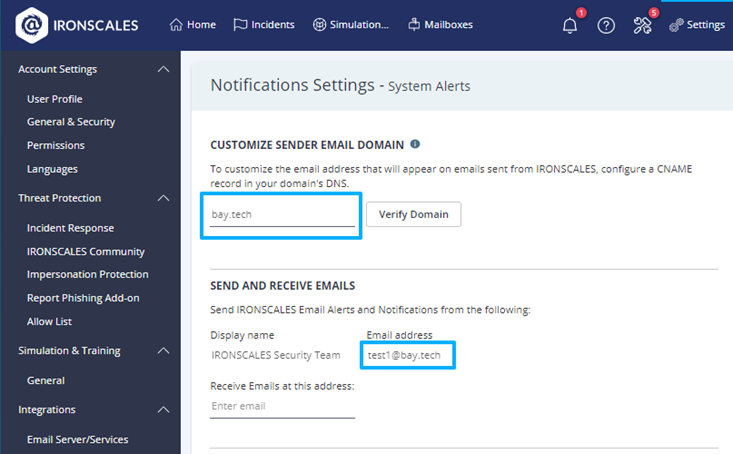 Added Account Takeover incident classifications to 'Activities' log
To provide your security analyst(s) with more clarity into your organization's security situation, IRONSCALES now logs Activities events whenever an Account Takeover incident is classified.
To learn more about IRONSCALES' award-winning anti-phishing solution, please sign up for a demo today at ironscales.com/get-a-demo.