Enhanced Account Takeover (ATO) Protection (for O365 users only)
ATO is a type of identity theft in which a cyber-criminal gains unauthorized access to a legitimate user's online account. Once the cyber-criminal has control of the account, they can execute a variety of different types of attacks including financial fraud, internal phishing, spear phishing, and more.
With this release, your IRONSCALES admins will gain visibility into suspicious activity and actions related to your end users' accounts. By reviewing incoming alerts, your security team will be able to conduct more thorough investigations into potential data leakage, fraud and other malicious activities. Should the investigation reveal that the end user account has been negatively impacted, your security team will be able to mark that account as compromised.

Redesigned training module
To enhance your user experience, this release introduces new filtering capabilities within the training module. The updated navigation experience will now feature a carousel.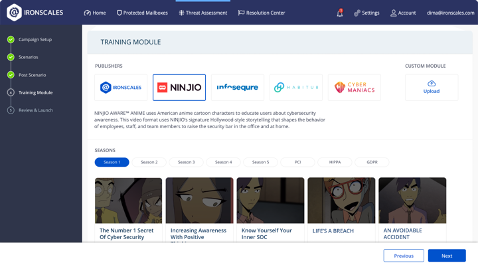 Enhanced Knowledge Base access
EU customers who previously accessed the Knowledge Base located in our US datacenter will now be able to access the same information from our EU datacenter. This will allow EU-based customers to more quickly access detailed documentation about the platform and to discover features that may be useful for your unique use cases.
Editing the autoreply email when reporting via 911
End users will now be able to edit and enable/disable the autoreply notification after submitting a 911 report.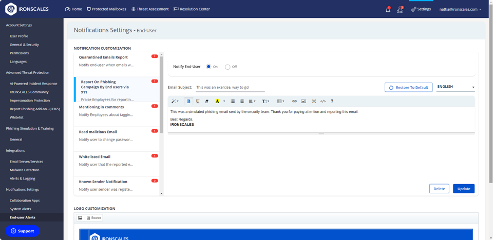 Remove simulated phishing emails on report (OWA, Google Workspace, Exchange)
In order to provide more accurate reporting and analytics with simulated phishing campaigns, this release adds the ability to automatically remove simulated phishing emails from the user's inbox after the user has reported the email. If the end user was initially lured by the simulated phishing email, they will still have the option to report the email. However, in the campaign analytics, they will be marked as having been lured. If the end user reported the simulated phishing email, that email will be quarantined from their inbox in order to prevent the end user from clicking on any links.
Exclude users from the quarantined email digest
With this release, your IRONSCALES admin will be able to exclude specific mailboxes from receiving the quarantined emails report. This addresses feedback we received from you about situations in which some end users felt they were receiving unnecessary emails.
To learn more about IRONSCALES' award-winning anti-phishing solution, please sign up for a demo today.