IRONSCALES, the leading enterprise cloud email security platform combining AI and human insights to protect more than 10,000 global organizations, is thrilled to announce the appointment of Matthew Martin as a strategic advisor to its esteemed Board of Advisors. With a distinguished career spanning over a decade in the financial services industry, Martin brings a wealth of expertise in cybersecurity strategy, risk management, and technology innovation.
Martin has proven his ability to navigate complex security landscapes and drive impactful strategic initiatives, most recently serving as the Deputy Chief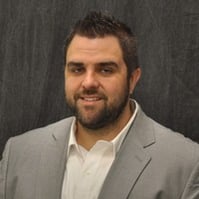 Information Security Officer at LPL Financial. His vast experience in overseeing security programs and products aligns seamlessly with IRONSCALES' commitment to deliver cutting-edge email security solutions.

Martin has held a variety of security leadership roles over the last seven years at LPL Financial and TIAA. Martin also taught Security Leadership Essentials at SANS Institute. In addition, he has played a vital role helping cybersecurity start-ups with innovation strategy.
Expressing his excitement about joining the Board of Advisors, Martin stated, "I am truly honored to become a part of the IRONSCALES strategic advisory team. The company's innovative approach to email security and its dedication to staying ahead of evolving cyber threats resonated with me. I look forward to contributing my insights and collaborating with fellow advisors to further enhance IRONSCALES' impact in the industry."
Eyal Benishti, CEO of IRONSCALES, also shared his enthusiasm about Martin's appointment, saying, "We are delighted to welcome Matthew Martin to our Board of Advisors. His deep understanding of cybersecurity, coupled with his strategic mindset, will undoubtedly prove invaluable as we continue to strengthen our position as a frontrunner in email security. We are excited to leverage his knowledge to drive our mission of providing proactive protection against phishing threats for organizations worldwide."
IRONSCALES remains committed to bolstering its leadership team with top-tier talent, and Matthew Martin's addition to the Board of Advisors reinforces the company's dedication to excellence and innovation in the cybersecurity landscape.